Three cheers for Ronald I. Cohen, who now adds MBE to the honorifics already due him as Churchill's bibliographer and President of the Sir Winston Churchill Society of Ottawa, Canada.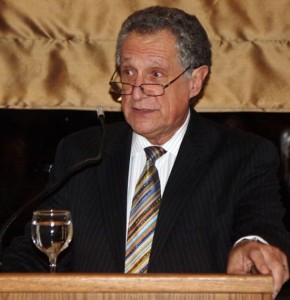 The Queen's 2014 birthday honours list was recently published, including 100 awards in recognition of exceptional service to Britain overseas. Among those honored is Ron Cohen, who was made a Member of the Order of the British Empire (MBE) "for services to British history."
A brief background may be in order for those of us in the English-speaking world deprived of both Queen and titular recognition. The lists of those who receive hono(u)rs are published at New Year and on the Queen's official birthday in June. Member of the Order of the British Empire is awarded for a significant achievement or outstanding service to the community. An MBE is also awarded for local 'hands-on' service which stands out as an example to other people.
Today Ron will enjoy a well-deserved congratulatory party at the residence of the British High Commissioner in Ottawa.
"It is truly an honour to receive this award," says Ron. "I had the good fortune to live in London during the last six months of Sir Winston Churchill's life. It was the outpouring of emotion and respect for him by Britain and indeed the world that inspired me to spend the last half century collecting, studying, writing and speaking about the "greatest Briton". That I should merit such recognition by Her Majesty for this passion is both humbling and gratifying."