History is often told from the perspective of great events and the great personalities who shape them. The few who conspicuously make history are also those most likely to record it; the voices of the many who are busy living history are often lost.
That's why an archive we have recently catalogued is so remarkable, offering an intimate, detailed, and uncommonly common perspective on the Second World War and one of its greatest figures, Winston Churchill.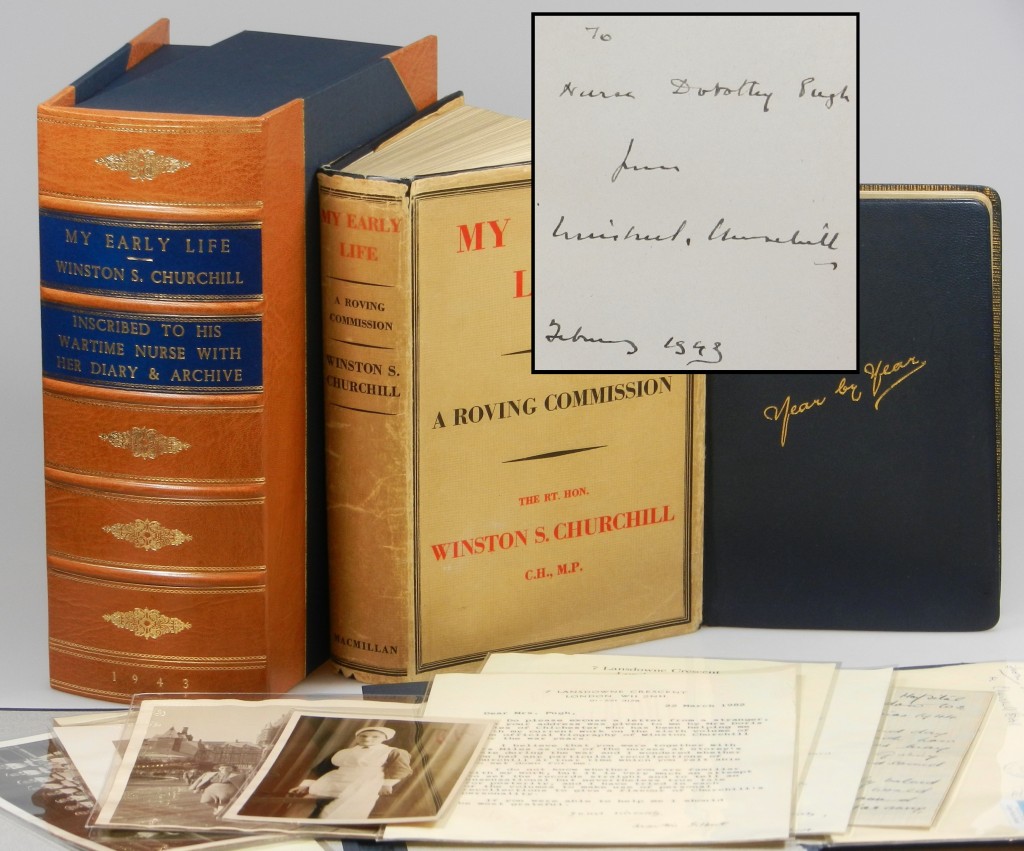 This remarkable Second World War archive belonged to Churchill's wartime nurse, Dorothy Pugh (1919-2014). It includes her inscribed copy of Churchill's autobiography, her personal wartime diary, photographs and wartime correspondence, and later correspondence from Churchill's official biographer, Sir Martin Gilbert.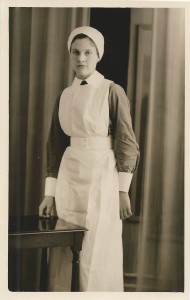 In February 1943, Churchill was struggling to recover from a series of illnesses, the most recent of which was pneumonia. Churchill's doctor, Sir Charles Wilson (made Lord Moran that March), Dean of St. Mary's Hospital Medical School, hired a young St. Mary's nurse to attend the Prime Minister.
Nurse Pugh's diary records that all she knew on 19 February 1943 was "Am to go out on a case tomorrow… all very exciting."

The next day she "Met Sir C Wilson who duly introduced me to Mr WSC met Mrs C a little later. Both of them very nice indeed… it all feels strange and unreal but no doubt I shall soon get used to it…"

By the following day, it was decided she would reside with the Prime Minister: "Am going to live in as it's a rush to get here in the morning." She would stay with him for several weeks, and thereafter as needed.

For the next eighteen months, Nurse Pugh would not only serve the Prime Minister in London, but also accompany him to Chequers and travel with him to both the first and second Quebec conferences with Roosevelt.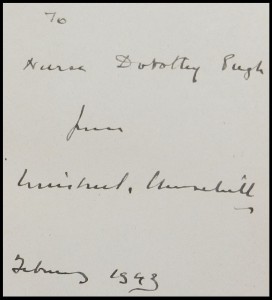 During her first week with Churchill, he gave her a copy of My Early Life inscribed: "To | Nurse Dorothy Pugh | from | Winston S. Churchill | February 1943". Her inscribed copy of My Early Life is the 1941 first printing of the wartime Macmillan reprint from the 1930 first edition plates. Macmillan acquired the rights to several Churchill books after the original publisher, Thornton Butterworth, went under in 1940. There were ultimately four Macmillan printings of My Early Life between 1941 and 1944. The first printing is both aesthetically superior and distinctly different from the three subsequent printings, printed on thicker paper than later printings. The first printing dust jacket also differs in the Churchill titles it advertises on the rear face.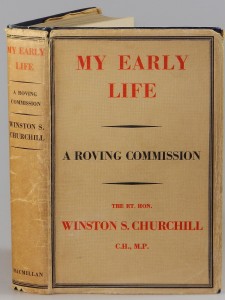 Nurse Pugh's inscribed copy is in near fine condition except for wrinkling to the front cover binding cloth, which appears to be a binding flaw rather than the result of any subsequent damage. The dust jacket is in near very good condition, showing overall age and wear, including modest spine toning, with only minor losses to extremities.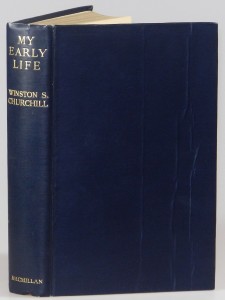 The inscribed book is significant, but Nurse Pugh's remarkable personal diary is what truly anchors this archive, primary source material with myriad unique glimpses of wartime history – and of Churchill himself. The diary, in superior condition in the original blue leather binding, bears entries spanning 1942 to 1946.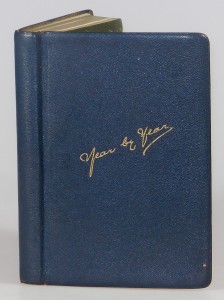 Nurse Pugh's entries juxtapose movie reviews, enthusiasm for eggs, and concern for her RAF husband with first-hand accounts of Churchill and key wartime figures that range from humorous and poignant ("Bed bathed P.M…. Mrs C as an audience – not a very pleasant job – still all was well. P.M. very sweet.") to grave import ("PM told me that Tunisia will be O.K. now.").

Pugh's entries interweave daily London life of rationing, air raids, and "carry on" ethos with the momentous figures, events, and decisions shaping wartime Britain. Among the "mundane" but viscerally affecting wartime entries are those from the month before she met Churchill:
| | |
| --- | --- |
| 17 January 1943 | "Air raid warning went at 8:30 pm – real gun fire so quite noisy for about 20 mins. All patients good. Dr. Gosse came to see if everyone O.K." |
| 18 January 1943 | "Another warning at 4:40 am. Very heavy barrage…" |
| 28 January 1943 | Two letters from Roger… It's a year now since R. joined the R.A.F. |
| 3 February 1943 | "Felt very depressed & had a jolly good howl. Felt much better after." |
An appreciation for Nurse Pugh's unique perspective was doubtless shared by Churchill's official biographer, Sir Martin Gilbert, who contacted her on 22 March 1982 asking for her recollections about Churchill. She replied on 6 April 1982 and some of her reflections were recorded in Churchill's official biography, including her conversation with Churchill aboard the Queen Mary en route to the second Quebec conference with Roosevelt in September 1944. (See Gilbert, VII, p.950)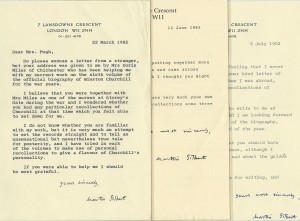 The three letters from Gilbert are included in this archive, as are five photographs of Nurse Pugh, among them two taken in Quebec during her travels with Churchill, as well as a Christmas 1944 letter to Nurse Pugh from her superior at St. Mary's Hospital.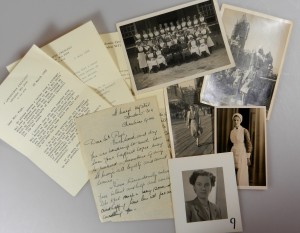 Nurse Pugh's diary was given to her by her fiancé, Roger. In February 1942 Roger was posted. They married in May. Roger served in the RAF with the 252 Squadron, flying Bristol Beaufighters in the Mediterranean, including Libya and Greece.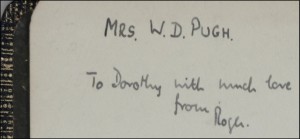 Interspersed among the historic personalities and great events her diary records, it also records private moments of both fraught concern and staid resolve for her husband. Roger survived the war; they would have two children and six grandchildren. At the end of her long life Dorothy Pugh was remembered for many things – a generous nature, charity work, love of gardening and keenness for ornithology – but perhaps most for her wartime service to Churchill. Her unique experience is remarkably encapsulated and illuminated in this archive, in both Churchill's hand and her own.
I could prattle on at length about Nurse Pugh's perspective on wartime Britain and Winston Churchill, but since we have the benefit of her diary, I will spare you more of my prose and share excerpts from her diary entries.
| | |
| --- | --- |
| 19 August 1942 | "Day of Dieppe raid. First time Roger's boys really went into action. First operational flight as new 252 squadron.   Strong didn't come back." |
| 24 September 1942 | "Busy afternoon doing blackout curtains." |
| 19 November 1942 | "just horrid leaving him [Roger] – he looked so young & forlorn." |
| 17 January 1943 | Air raid warning went at 8:30 pm – real gun fire so quite noisy for about 20 mins. All patients good. Dr. Gosse came to see if everyone O.K. |
| 18 January 1943 | Another warning at 4-40 am. Very heavy barrage… |
| 28 January 1943 | Two letters from Roger. Telephoned o.w. after duty. It's a year now since R. joined the R.A.F. |
| 3 February 1943 | Felt depressed & had jolly good howl.   Felt much better after. |
| 19 February 1943 | "Am to go out on a case tomorrow… all very exciting." |
| 20 February 1943 | "Met Sir C Wilson [Churchill's doctor, later becomes Lord Moran] who duly introduced me to Mr. WSC met Mrs. C a little later. Both of them very nice indeed. Quiet day – really very little to do – it all feels rather strange and unreal but no doubt I shall soon get used to it… Met Lord Beaverbrook" |
| 21 February 1943 | "P.M. had a better night + felt much better. Saw Sir Charles. Quiet morning. A Eden came just before lunch… General Ismay arrived… Am going to live in as its a rush to get here in the morning." |
| 22 February 1943 | "Fairly busy day. P.M. kept finger on bell pretty well all day… Letter from Roger – not much news but he seems very well & quite busy too. PM told me that Tunisia will be O.K. now." |
| 23 February 1943 | "Bed bathed P.M… Mrs C as an audience – not a very pleasant job – still all was well. P.M. very sweet." |
| 25 February 1943 | "Sir C told off by P.M. – rather funny." |
| 27 February 1943 | "P.M. wants Doris [another nurse] & me to go to Checquers w/ him!!!" |
| 1 March 1943 | "P.M. had cinema show after tea – 7 pm. I went. Saw 2 news reels + "Nine Men". Quite good. |
| 2 March 1943 | "Cinema during afternoon. "Once Upon a Honeymoon". P.M. did not think much of it… Lord Louis came to dinner. Handsome man." |
| 3 March 1943 | "P.M. had cabinet meeting. Lunch at No 10. shown around the house all very interesting. Saw P.M. off – was very sweet to me" |
| 12 August 1943 | "Started day very well w/ a letter from R. who is now in Sicily!!… Watched large formation of bombers – made me feel very lonely for R." |
| 17 August 1943 | "All organized resistance stopped in Sicily today, All news quite good." |
| 7 January 1944 | "Wakened by Johnson – just heard her fiance has been killed. Tried my best to give her some comfort. Could not go to sleep after." |
| 6 April 1944 | "Still no mail. I feel at the moment that's all I live for – just a letter from Roger. It hardly seems possible that its 16 months since I saw him – Some times it seems like yesterday when he said good-bye on Edinburgh Station – I'll never forget that." |
| 6 June 1944 | "8AM NEWS. First stages of invasion started. Allies made landings from Le Harve to Cheubourg. Great excitement. Makes one really feel that the end is beginning." |
| 29 August 1944 | "Call from Matron – am to go to Stoney Gate … P.M. just landed – slight chill – I hope nothing more. Welcomed by them all – as an old friend." |
| 30 August 1944 | "Visit from Dr. G. M. Lord M + Col. Drew. T[emperature] down. Gen Eisenhower called & stayed very late…" |
| 4 September 1944 | "P.M. in very good form. Told by Lord M at 6:30 pm that I'm to go on the trip to Canada!! Called at S.M.H. to collect clothes…" |
| 5 September 1944 | "Left London at 10 AM for Port of Embarkation. Sailed at 8:30 pm from Scotland in Q.M." |
| 10 September 1944 | "5th day land sighted by 11:30 am. Landed Halifax Nova Scotia at 2:30 pm." |
| 13 September 1944 | "Reception for British Delegation. Present to Mrs. F.D.R. Mr. Mackenzie King. Dancing after dinner." |
| 20 September 1944 | "Sailed at 4:30 – saw Statue Liberty. Picked up P.M. etc at Staten Isle. Then sailed." |
| 23 September 1944 | "Chat w/P.M." |