Occasionally, we have the opportunity to catalogue not just books and other publications already known to history, but bits of primary source material that accrete another fragment of information or perspective to the historical record.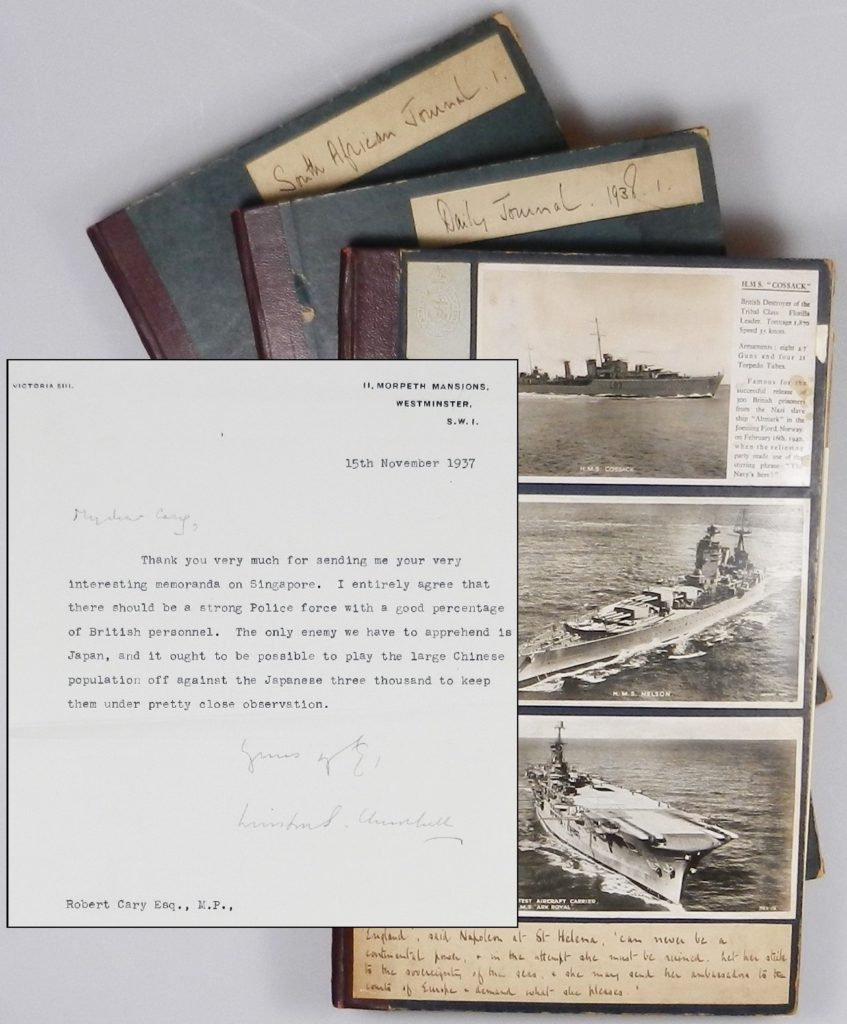 We have just catalogued an archive of Conservative Member of Parliament Sir Robert Cary spanning the late 1930s and the Second World War.  The archive is notable for including a late 1937 typed, signed letter from Winston S. Churchill to Cary about the defense of Singapore, as well as 1938 correspondence about the infirmities of Prime Minister Neville Chamberlain.
Sir Robert Archibald Cary, 1st Baronet of Withington (1898-1979) was a Conservative politician. He received his education first at Ardingly College, then at the Royal Military College at Sandhurst, as Churchill had done several decades earlier. Cary represented the constituency of Eccles from 1935 to 1945, then the district of Withington in Manchester from 1951 until his retirement in 1974. A veteran of the First World War (fighting with the 4th/7th Royal Dragoon Guards), during the Second World War Cary was parliamentary private secretary to the Civil Lords of the Admiralty from 1939 to 1942, and to the Secretary of State for India and Burma from 1942 to 1945. Upon Churchill's defeat in the 1945 General Election, Cary was knighted in Churchill's resignation honours on August 14. Cary and Churchill shared a concern for global security, as evidenced not only by Churchill's 15 November 1937 letter to Cary regarding Singapore, but also by Cary's numerous queries to the Prime Minister in the House of Commons in 1937 on topics including expansion of the Royal Air Force and the reform and recruiting needs of the Army. From 1951 to 1955, during Churchill's second premiership, Cary was private secretary to the Lord Privy Seal, and also Leader of the House of Commons. He was made the first Baron of Withington in 1955 in Churchill's final year as Prime Minister.
Cary's archive consists of three ruled paper journals measuring 12.75 x 8 inches, bound in quarter red cloth spines over green boards.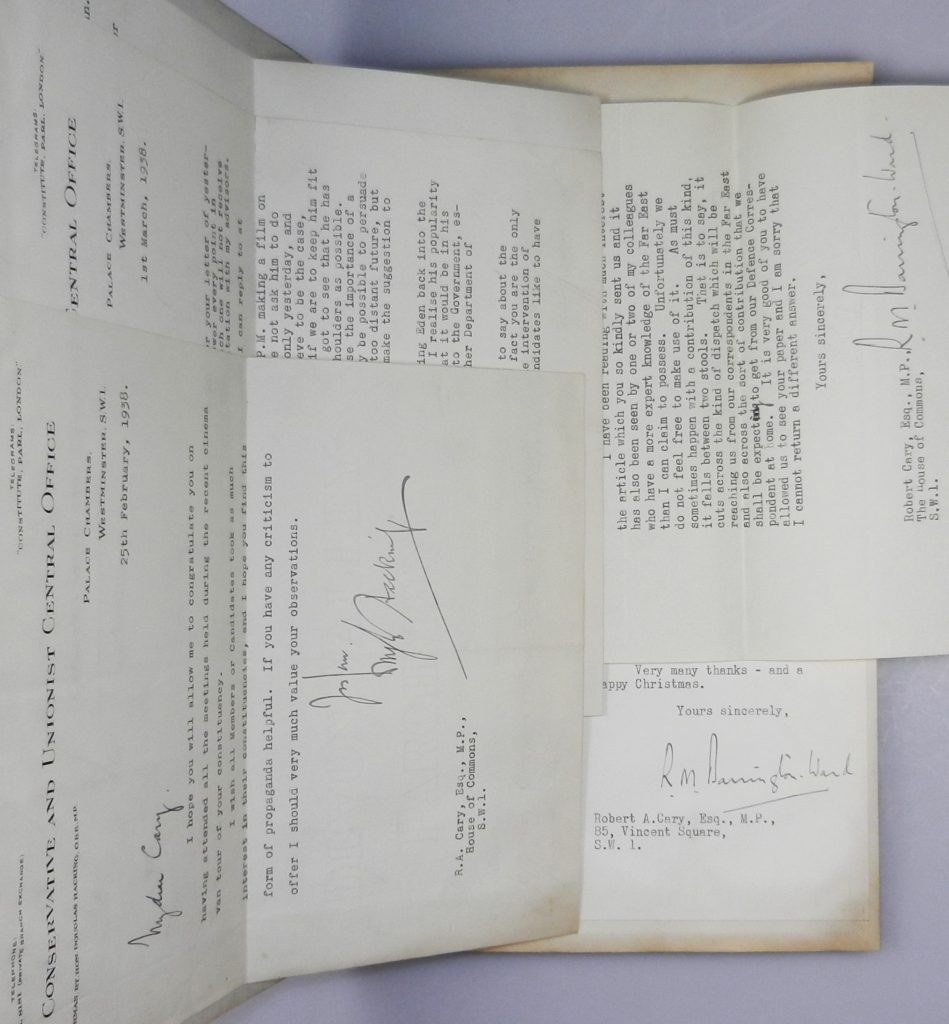 One, labeled on the front cover "Daily Journal 1938, contains nine typed, signed pieces of correspondence to Cary from that year, as well as newspaper clippings.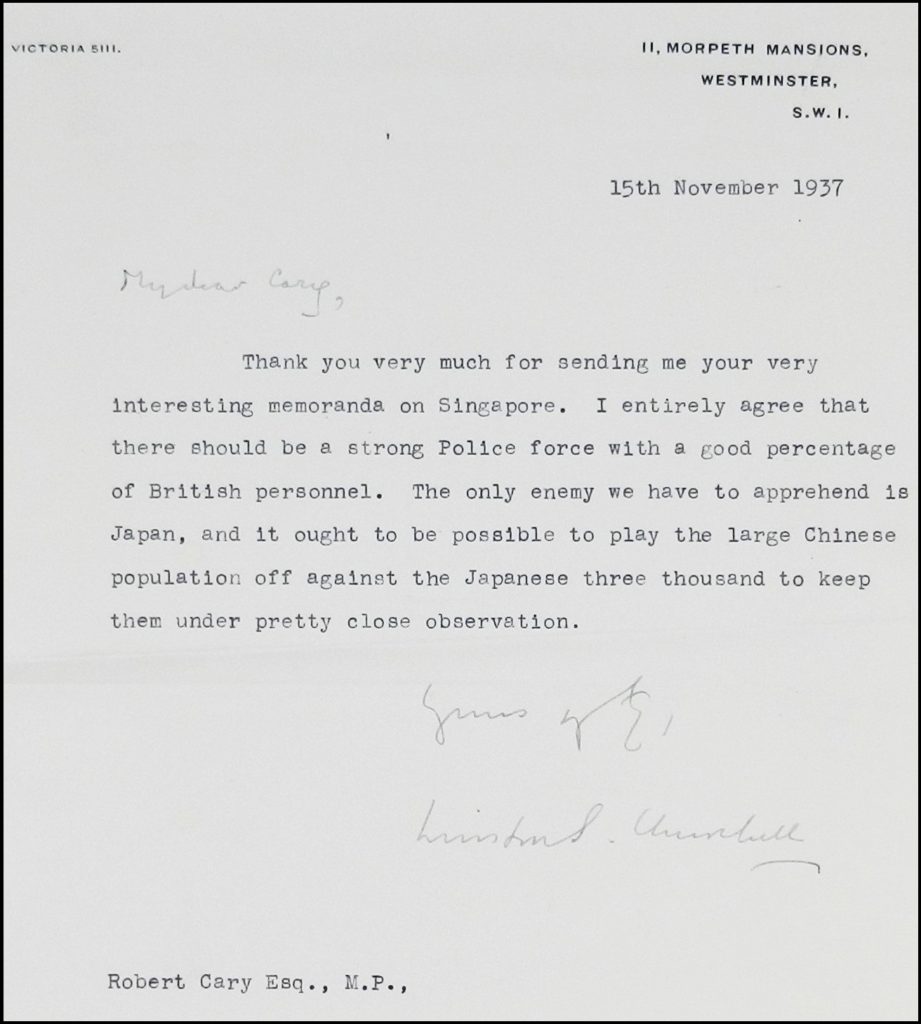 Most notable among this correspondence are two letters.  The first is a typed, signed letter from Winston Churchill dated "15th November 1937" on his "11, Morpeth Mansions" stationery regarding Singapore: "I entirely agree that there should be a strong Police force with a good percentage of British personnel.  The only enemy we have to apprehend is Japan, and it ought to be possible to play the large Chinese population off against the Japanese three thousand to keep them under pretty close observation."  The letter bears Churchill's holograph salutation "My dear Cary" as well as Churchill's holograph signature "Winston S. Churchill".
A little more than four years after Churchill's letter to Cary, Singapore was to prove a nadir of Churchill's wartime premiership.  The Japanese invasion of south-east Asia began almost simultaneously with the invasion of Pearl Harbor in early December, 1941.  Singapore was viewed as virtually impregnable – the "Gibraltar of the East". However, her British defenders proved unprepared for the speed and ferocity of the Japanese advance. General Percival's troops were soundly defeated in Malaya on December 11/12, 1941. Retreating to Singapore, Percival spread his men out too thinly, and many troops played no role in the final battle, from February 8-15, 1942.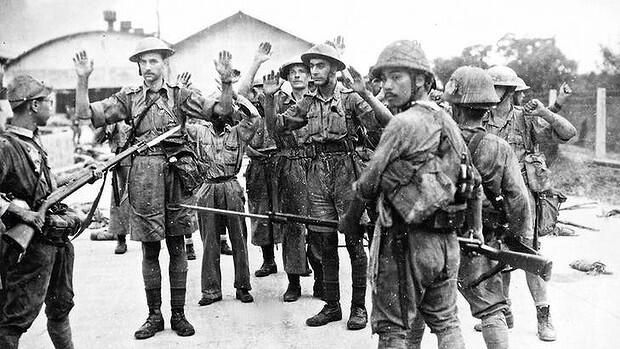 On February 15, the British and Dominion troops in Singapore surrendered unconditionally to the Japanese, who took 100,000 men prisoner.  Many would never return home.  That night, Churchill broadcast to the nation.  Jock Colville recalled "The nature of his words and the unaccustomed speech and emotion with which he spoke convinced me that he was sorely pressed by critics and opponents at home."  This would prove one of the greatest defeats of the Second World War.  The blow both to Churchill and British morale was profound and Churchill "seemed unable to turn the tide of depression."  (Gilbert, Vol. VII, p.59)   Pressure from both the public and Parliament led to a restructuring of the Cabinet and on February 17, Churchill endured an acrimonious debate in the House of Commons. That day he had his weekly luncheon with the King, who recorded in his diary that Churchill compared the situation to "hunting the tiger with angry wasps about him".
Also in the "Daily Journal of 1938" are five TLS from Conservative party Chairman Douglas Hewitt Hacking, 1st Baron Hacking (1884-1950).  Of particular note is a two-page letter from Hacking dated "1st March 1938".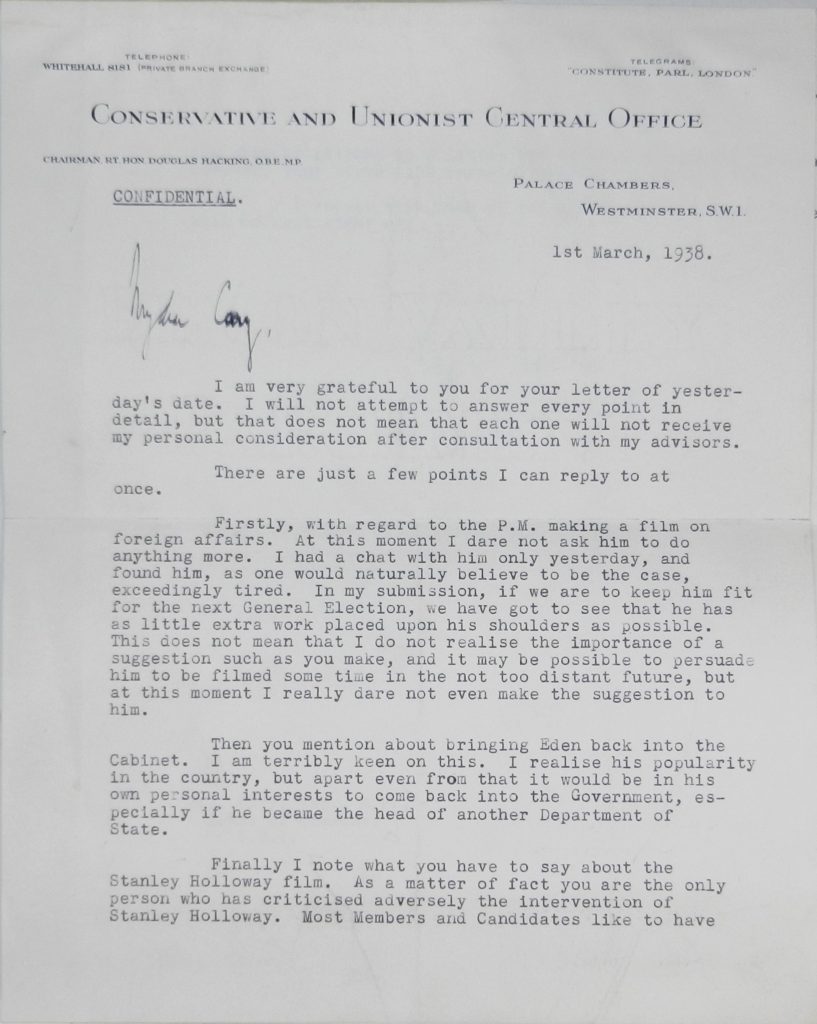 This letter is a reply to a letter from Cary in which he apparently asked that Prime Minister Neville Chamberlain make a film on foreign affairs and that Anthony Eden be brought back into the Cabinet.  Of Chamberlain, Hacking tellingly writes: "…I dare not ask him to do anything more.  I had a chat with him only yesterday, and found him… exceedingly tired…. If we are to keep him fit for the next General Election, we have got to see that he has as little extra work placed upon his shoulders as possible."  About Eden, Hacking wrote: "I am terribly keen on this.  I realise his popularity in the country, but apart from that it would be in his own personal interests to come back into the Government, especially if he became the head of another Department of State."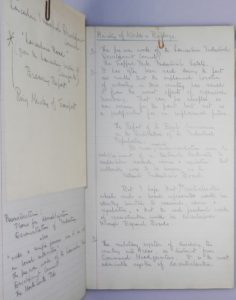 A second journal has wartime photos and postcards of both British navy ships and Winston Churchill pasted on the front cover and within, and also includes 10 pages of Cary's holograph notes, with additional notes on House of Commons stationery, both laid in and tipped in wartime newspaper clippings, and laid in printed parliamentary papers.  Some of Cary's holograph notes appear to be drafts of Parliamentary comments, as well as notes and 1941 correspondence and a newspaper clipping on the cotton trade.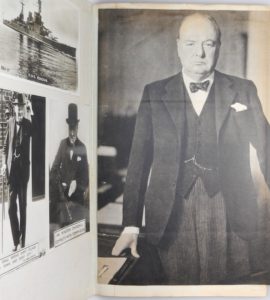 The third and final journal is labeled "South African Journal" and appears to be a journal of Cary's September 1938 trip to South Africa, including newspaper clippings of Cary's opinion pieces and speeches, both before and following his trip.  Cary made his travel arrangements in May, the same month of the South African General Election that consolidated power under the United South African National Party of J. B. M. Hertzog and Jan Smuts.
We offer this archive for sale HERE.