As a bookseller we have a lot of books pass through our hands. But we are also collectors. And as collectors, sometimes we handle an item that is worth talking about, even if we are not offering it for sale.
Hence this post about a truly exceptional British first edition of The Second World War.
Most of us are familiar with the six-volume British first edition. The British first edition of Volume I was published in October 1948, the sixth and final volume in April 1954. British first editions were issued in black cloth bindings stamped gilt on the spines with uniform dust jackets featuring varying color print and uniform red spine sub-titles on a grey background containing alternating rows of rampant lions and Churchill's initials. Though truly fine copies are quite rare, jacketed sets in flawed condition are not uncommon.
Not so the handful of original first edition, leather bound presentation sets.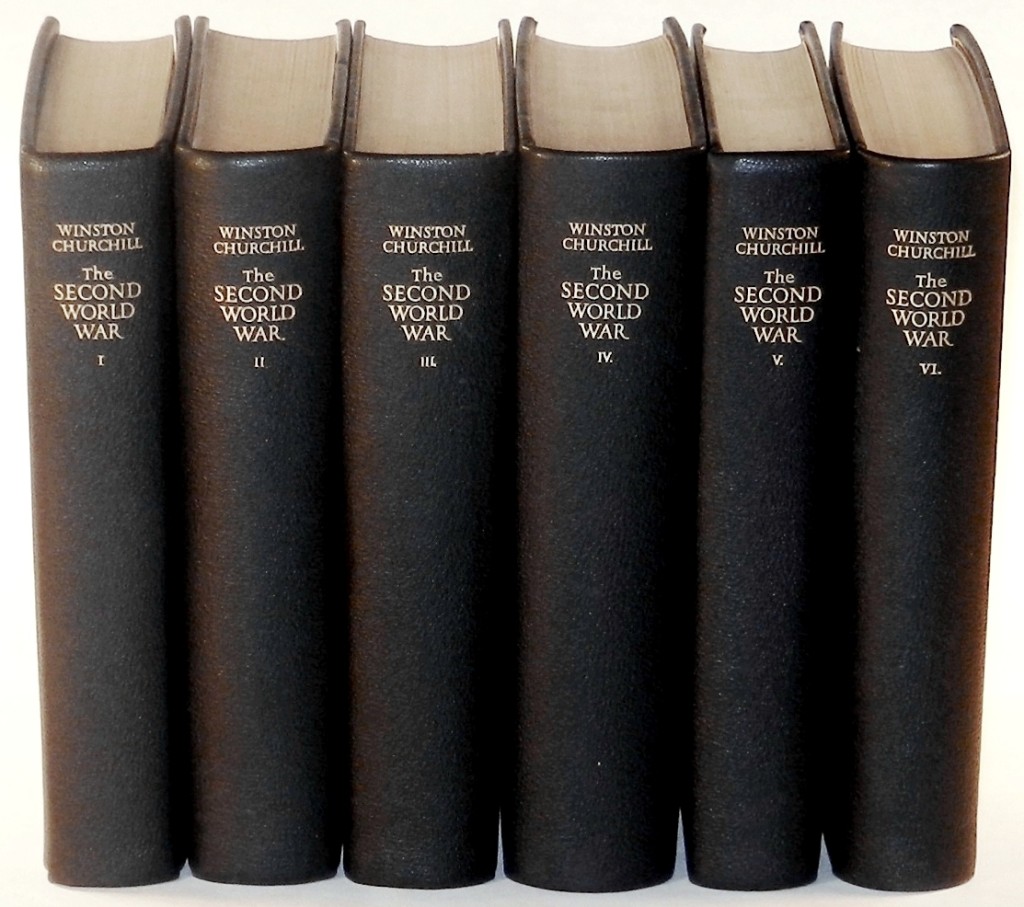 "One hundred sets" are noted by Frederick Woods as "bound by Cassell in full black pebble-grain morocco for presentation." These are elegantly handsome, with first printing contents including original trade edition endpapers, gilt on the top edge, head and foot bands, gilt ruled turn-ins, and gilt author, title, and volume number spine print. Such sets are quite scarce and coveted.
We recently offered a particularly noteworthy such set, inscribed by Cassell's Director Sir Newman Flower with an accompanying note by him dated 25 October 1948 reading: "Cast forth your Churchill volume! Cast it forth and, please accept this one! Each of the three Directors of Cassells has now received six copies which Winnie had bound in leather, and I should like you to have one of them. Whether this leather binding is going to be continued by Winston in his later vols. I don't know. If so, I should wish you to have one of each out of my portion. If not, I will make some arrangement."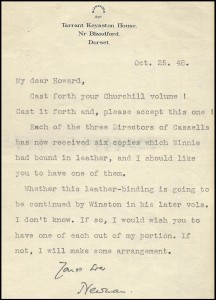 Sir (Walter) Newman Flower (1879-1964) already had three decades' experience as an accomplished editor and publisher when he purchased the book-publishing part of Cassell in 1927 from Lords Camrose and Kemsley. Flower retired from Cassell in 1946, passing the reins to his son, but remained Chairman of the Board.
Securing the rights to publish Churchill's war memoirs has been called "perhaps the greatest coup of Twentieth Century publishing." It was Sir Newman Flower who arranged this coup. When Churchill was offered a large sum for the film rights to the yet-unpublished History of the English-Speaking Peoples, Flower had his moment. Cassell owned the film rights, which Flower offered to surrender in return for first refusal on Churchill's anticipated war memoirs. On 24 November 1944, Churchill consented, writing to Flower: "I shall be very pleased to give your firm a first refusal, at the lowest price I am prepared to accept, of publishing rights in serial and book form… in any work I may write on the present War after it is over." Churchill specified "I undertake no obligation to write anything."
The two caveats reflected the advice of Churchill's lawyers and the author's characteristic hard-nosed (even ruthless) negotiating when it came to extracting value for his writing. Nonetheless, the agreement set the stage for Cassell's publishing triumph. Of course Churchill would inevitably write his war memoirs, and of course Cassell would do what it took to accommodate Churchill's expectations. Among other things, Churchill's six-volume work proved the essential asset to Cassell's postwar recovery.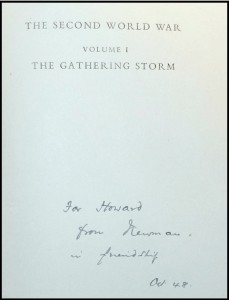 Churchill Bibliographer (and newly-minted MBE "for services to British history") Ron Cohen speculates that the recipient of this set might well have been Howard Dare Denny, who was the third Manager of Cassell's Australia. Denny served as Manager from 1924 to 1947 and died in 1960 – late enough to have received all six volumes of The Second World War. Ron speculates that "it would be quite logical to suppose that Sir Newman Flower, who was a major figure at Cassell's London offices over those same two plus decades, would have written such a personal note" to Denny. Both men were succeeded by their sons, Denny's son Cyril Dare Denny taking over Cassell Australia operations in 1947.
It is worth regarding that this note from a Cassell Director accompanying Volume I might appear to question Frederick Woods' original bibliographic report on both the number of copies issued and whether they were bound by the author or the publisher.
In the end, we are obliged to defer to Woods, who had access to now-vanished Cassell personnel and publishing records when his own Bibliography was published in 1963. The 18 copies that Sir Newman Flower's letter specified were for the "three Directors of Cassells" might have been a subset of the 100 total. And even if Churchill did make arrangements for the sets to be bound in black morocco, it is entirely plausible that this work should have been done at Cassell. Nonetheless, the question – raised by a 1948 presentation letter from the man who secured the publication rights – is engaging to contemplate. And the set – beautifully bound, magnificently preserved, and with its inscription and letter – adds a layer of history to that printed on its pages.