Unique is a bold word in book collecting. Many items are scarce, rare, or even extravagantly rare. Few are truly singular. This particular item – a WWII archive of the Nazi occupation of Jersey – is genuinely unique, an intimate and intriguing piece of history.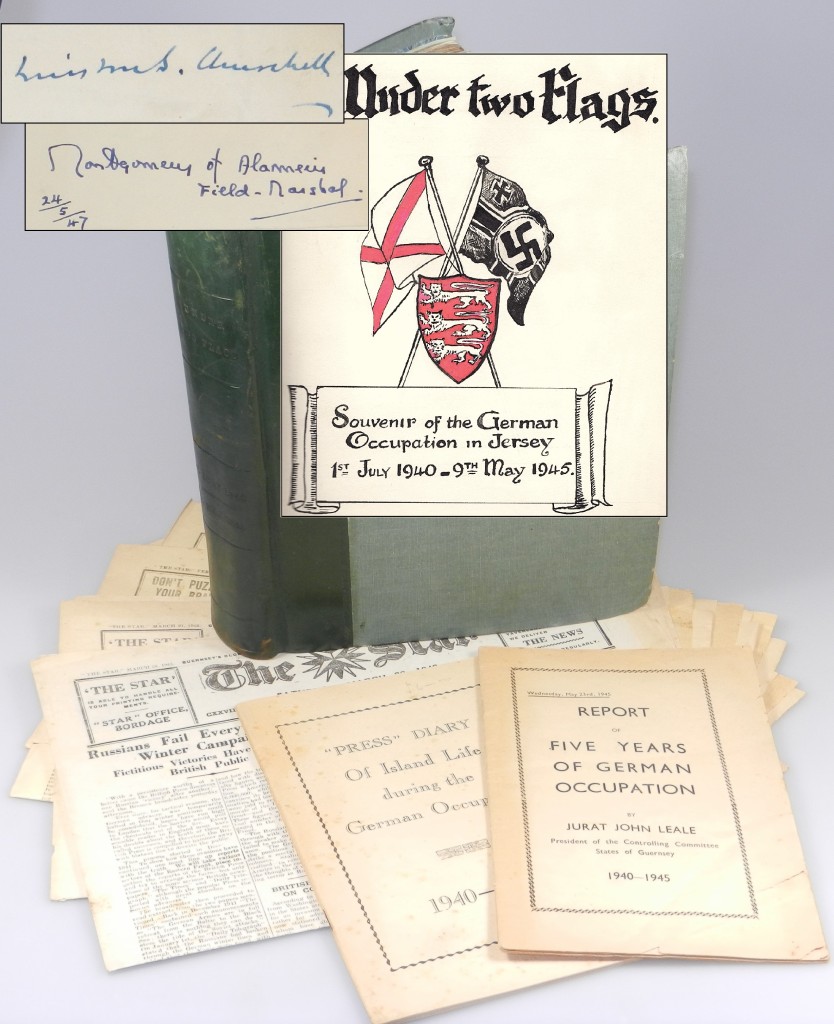 It was not published, but rather privately hand-compiled by a resident of Nazi-occupied Jersey and so is unequivocally the only copy. The Channel Islands were the only British territories to be occupied by the Germans during the Second World War, so this archive chronicles that occupation from the perspective of a British citizen of occupied Jersey living under half a decade of Nazi rule.
This archive is made further compelling by the fact that the compiler had it signed by both Churchill and Montgomery in the war's aftermath.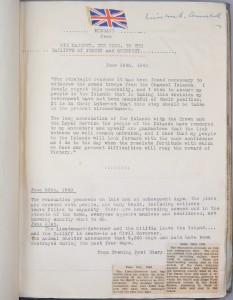 Churchill chose to sign at the beginning of the album, at the upper right corner of the message from the King announcing the strategic withdrawal from the Channel Islands that precipitated their Nazi occupation. This was, of course, a decision Churchill made very early in his premiership, and for which he bore ultimate responsibility, so it is interesting that he chose to sign here – apparently a different spot from where the album's compiler had requested he sign.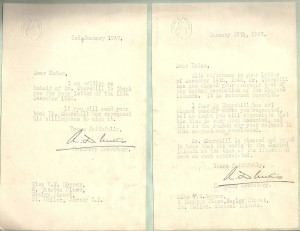 The fact that Churchill signed in a location different from what was requested is evident from two 1947 letters on House of Commons stationery from Churchill's secretary, one conveying Churchill's assent to a request to sign the album and the second returning the signed album. Both letters are pasted into the archive. The correspondence is from Churchill's Honorary Secretary A. D. Curtis. Churchill's signature was requested by the archive's compiler, Ms. Hopper, in December 1946.  In January 1947 she received permission to send her album to Churchill, whereupon it was swiftly signed by him and returned to her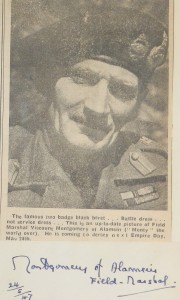 Montgomery's own signature in the album is dated 24 May 1947. Montgomery visited Jersey in late May, evidenced by new clippings included in the album itself.
The Channel Islands archipelago of British Crown Dependencies is located in the English Channel off the French coast of Normandy and is comprised of Jersey (the largest island), Guernsey, and a number of smaller islands.  These islands were the only British territories to be occupied by the Germans during the Second World War.  Jersey was occupied from 1 July 1940 to 9 May 1945.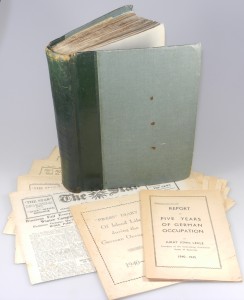 This archive consists of the following:
A 245-page album in its original quarter-leather over cloth binding measuring 10.75 x 8.25 x 2.25 inches and blind-stamped on the spine "Under Two Flags 1st July 1940 – 9th May 1945".
A 44-page wire-stitched newsprint pamphlet (no date or printer specified) titled "PRESS" DIARY of Island Life during the German Occupation 1940-1945.
A 32-page wire-stitched newsprint pamphlet dated "Wednesday, May 23rd, 1945" entitled Report of Five Years of German Occupation by Jurat John Leale, President of the Controlling Committee, States of Guernsey.  This pamphlet states "Reprinted from the Guernsey Evening Press"
Seven original 1942 issues of Guernsey's newspaper, The Star, spanning January 27 to March 28, published during German occupation and under German censorship.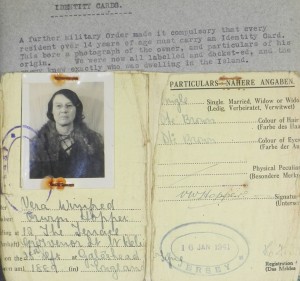 The album is, of course, the heart of this archive.  It was compiled by Vera Winifred Orwyn Hopper (b. 1889), at the time of the German invasion an unmarried resident of St. Helier, Jersey's capital.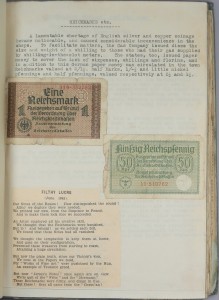 It is a remarkable piece of history, stuffed with wartime occupation artefacts including newspaper clippings from the Nazi-censored Channel Islands press, orders issued by occupying Nazi forces, stamps issued during the German occupation, German currency, Ms. Hopper's German identity card, notes on hardships suffered, including clothing, food, health, and deportations of families to Germany, wartime correspondence, and accounts of postwar recovery.  The documents within span June 1940 to September 1948.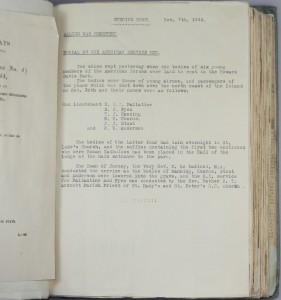 While the album generally recounts hardship, patriotism, and resilience, among the most interesting items found within is an unsigned and undated typed and hand-corrected portion of a typed sheet that is decidedly reflective: "The idea of the "Hun" or "Boche" has faded from our minds, and most of the Islanders feel a sense of regret that these tall, well-built fellows, more like the English than any other race on earth, should be enemies."
In June of 1940, only a little over a month after Churchill became wartime Prime Minister, his Chiefs of Staff recommended that the Islands, which could not be defended, be demilitarized, effectively ceding the territory to Nazi Germany.  "Churchill opposed this recommendation" saying it was "repugnant now to abandon British territory which had been in the possession of the Crown since the Norman Conquest."  Nonetheless, the Chiefs of Staff defended their conclusion and Churchill deferred to them.  (Gilbert, VI, p.573)
Once made, it was a decision to which Churchill steeled himself, refusing several suggestions throughout the war (from Stalin and Montgomery, among others) to devote precious military resources to retaking the strategically ancillary Channel Islands.
Nonetheless, the occupation was a moral nettle – enough for Churchill to comment to Eisenhower in a 4 May 1945 telephone conversation "that the Channel Islands had been in British possession for many centuries, and that he hoped that the [German] surrender would be made to a British Officer."  (Gilbert, VI, p.676)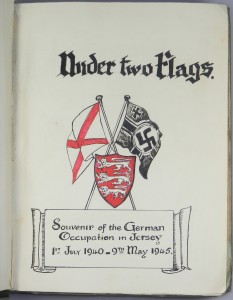 The album is in very good condition overall, worn at extremities with some insect damage to the rear hinge and shaken, but obviously original and still intact, with contents that show little spotting or deterioration.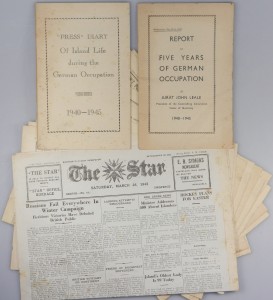 The accompanying Guernsey occupation newspapers and the two occupation pamphlets variously show age-toning and some spotting and wear endemic to the newsprint, but are nonetheless in sound condition, noteworthy given their age and perishability.
It has truly been a pleasure to explore and write about this item. This archive will be offered in our forthcoming 2016 catalogue of items signed or inscribed by Churchill. We look forward to helping it find the library of a discerning collector or institution.