Joining a trade association is not usually a stimulating and exciting event.  No parades and press announcements.  Nonetheless, Churchill Book Collector is quite excited to announce that we have been invited to join the Antiquarian Booksellers' Association of America (ABAA).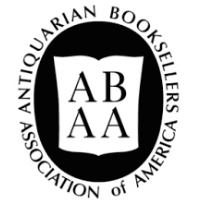 The ABAA is the oldest association of professional booksellers in America and not only includes some of the most distinguished names in the book trade, but also supports an admirable array of preservation, education, research, and networking endeavors.
Along with becoming a member of the ABAA, we are now affiliated with the International League of Antiquarian Booksellers (ILAB), which links like-minded national bookseller organizations, representing an impressive array of professional booksellers from 32 different nations.
That's well and good, but why are we so excited?  A few reasons:
First, the high professional and ethical standards we seek to uphold are admirably supported by the ABAA and shared by its members.  You may read more about the mission of the ABAA HERE and the ABAA Code of Ethics HERE.  As any collector knows, there are few things more disappointing than laboring to find and fund just the right acquisition, only to have the experience marred by an inexperienced, unprofessional, or unscrupulous seller.  ABAA members have – and the organization upholds – the highest standards in the book trade.
Second, with ABAA membership we further enhance our ability to serve our customers.  Our inventory of material by and about Winston Churchill is one of the world's most extensive, with offerings ranging from some of the rarest material offered – including fine first editions and inscribed copies – to reading copies and works about Churchill's life and time.  We have the good fortune of an excellent reputation in this specialty and a discerning, global clientele.  However,  both our own collecting interests, and those of our customers extend to authors and eras beyond Churchill.  Our inventory has begun to reflect this collecting diversity and will continue to do so in the future.  Our ABAA membership will enhance our ability to help our customers acquire rare and collectible books beyond the Churchill canon.
To those of you who read our blog, our thanks for sharing our passion for the printed word.  To those who have chosen us to help us build your own collections, we look forward to continuing to help worthy books find your shelves.
Cheers!