This is another installment in our preview of hoarded treasures being reserved for our forthcoming "Extra Ink" catalogue.  Expect the catalogue late in 2018.  During the coming months our blog posts will give you a sneak peek at some of the catalogue items.

Today, a first trade edition of Seven Pillars of Wisdomrendered special by a poignant inscription by Eric Kennington, the man who created thirty-one of the illustrations within its pages.  Inked in blue in four lines on the half title, Kennington wrote: "How lucky I was to meet | & know this man for 14 years | Eric Kennington | August 1954".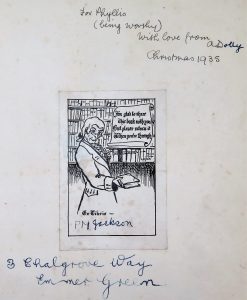 A gift inscription "For Phyllis" dated "Christmas 1935" is inked on the front free endpaper above the illustrated book plate of "PM Jackson".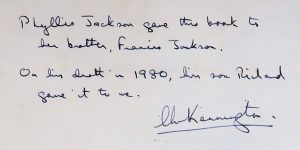 A five-line inked notation on the front free endpaper verso that appears to be signed by Christopher Kennington (Eric Kennington's son) reads: "Phyllis Jackson gave this book to | her brother, Francis Jackson. | On his death in 1980, his son Richard | gave it to me."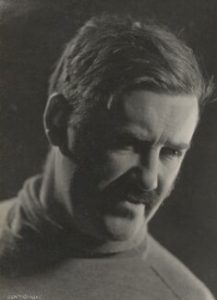 Eric Henri Kennington (1888-1960) was known as a painter, print maker, and sculptor and, most notably, as "a born painter of the nameless heroes of the rank and file" whom he portrayed during both the First and Second World War.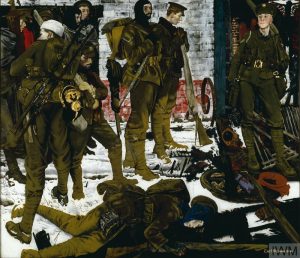 Badly wounded on the Western Front in 1915, during his convalescence he produced The Kensingtons at Laventie, a portrait of a group of infantrymen. When exhibited in the spring of 1916 its portrayal of exhausted soldiers created a sensation. Kennington finished the war employed as a war artist by the Ministry of Information. After the war, he met T. E. Lawrence at an exhibition of Kennington's war art.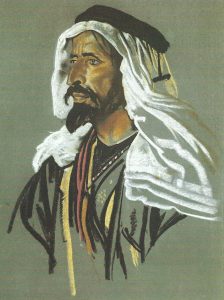 In 1921, Kennington traveled to the Middle East with Lawrence where, Lawrence approvingly wrote of his work, "instinctively he drew the men of the desert." Kennington served as art editor for Lawrence's legendary 1926 Subscribers' Edition of Seven Pillars of Wisdomand produced many of the drawings therein.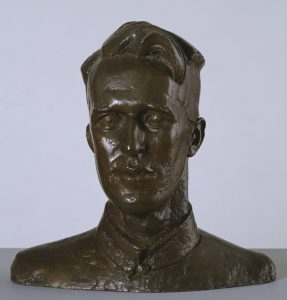 That same year he produced a bust of Lawrence – an image of which is the frontispiece of this book.  On 15 February 1927, Lawrence wrote to Kennington praising the bust as "magnificent". Lawrence said "It represents not me, but my top-moments, those few seconds in which I succeed in thinking myself right out of things."  In 1935, Kennington served as one of Lawrence's pallbearers.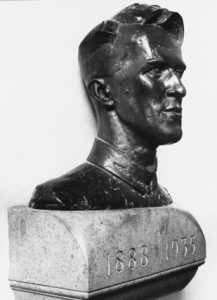 In 1936 his second, memorial bust of Lawrence was installed in the crypt of St. Paul's Cathedral.  Kennington was again an official war artist for the British government during the Second World War (Ministry of Information and Air Ministry), producing a large number of portraits of individual soldiers in addition to military scenes.  Kennington died a member of the Royal Academy six years after writing the inscription in this book.
Seven Pillars of Wisdom, with which Kennington became integrally linked, is the story of T. E. Lawrence's (1888-1935) remarkable odyssey as instigator, organizer, hero, and tragic figure of the Arab revolt against the Ottoman Empire during the First World War, which he began as an eccentric junior intelligence officer and ended as "Lawrence of Arabia." This time defined Lawrence with indelible experience and celebrity which he would spend the rest of his famously short life struggling to reconcile and reject, to recount and repress.  Kennington first produced illustrations for the 1926 "Subscribers' Edition" of which fewer than 200 complete copies were produced.
Another of Lawrence's friends, Winston Churchill, wrote: "It ranks with the greatest books ever written in the English language.  If Lawrence had never done anything except write this book as a mere work of the imagination his fame would last… But it is fact, not fiction… An epic, a prodigy, a tale of torment, and in the heart of it – A Man."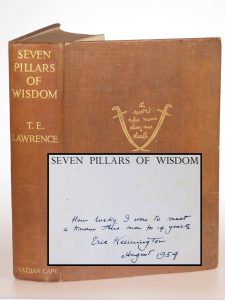 It was only in the summer of 1935, in the weeks following Lawrence's death, that the text of the Subscribers' Edition text was finally published for circulation to the general public in the form of a British first trade edition. This copy inscribed by Kennington is the first printing of this British first trade edition. Condition is good, showing the aesthetic flaws of age and wear, but sound.  The khaki cloth binding is square and tight with wear to extremities, overall soiling and staining, and considerable scuffing to the rear cover. The contents are clean with toning to the page edges.  A tiny Colchester bookseller sticker is affixed to the lower rear pastedown.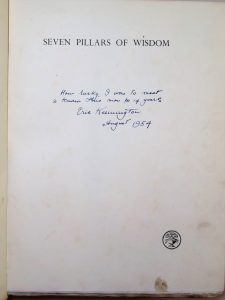 Look for this and dozens of other signed or inscribed items in our "Extra Ink" catalogue late in 2018!