Imagine a book so rich in signatures that Winston Churchill's autograph is barely of note.
Q:        What would it take to secure the signatures of 85 leading lights in British literature and the arts, as well as four prime ministers, in a single volume?
A:         It took a World War and a future King of England.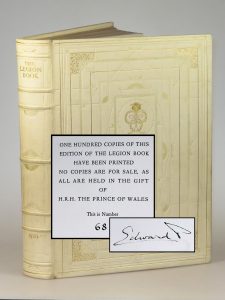 The First World War is often eclipsed by the conflagrations of the latter part of the twentieth century, notably the Second World War and Cold War.  But it was the First World War that truly stunned civilization, ushering an age of inconceivable carnage and industrialized brutality.  When war came in August 1914, prevailing sentiment held that the conflict would be decisive and short.  "You will be home before the leaves have fallen from the trees," Kaiser Wilhelm assured his troops leaving for the front.  More than four extraordinarily bloody years followed, lasting until the eleventh hour of the eleventh day of the eleventh month of 1918.  In his own history of WWI, Winston Churchill wrote: "Overwhelming populations, unlimited resources, measureless sacrifice… could not prevail for fifty months…"
The British Empire alone suffered more than 900,000 dead and two million wounded.  At the end of WWI, the pension for a totally disabled man was only 30 shillings a week and no claim could be made seven years after discharge.  In May 1921 several ex-servicemen's organizations were amalgamated to form the Royal British Legion.  Thereafter, the Legion actively involved itself with employment and pensions for both able and disabled ex-servicemen or their dependents.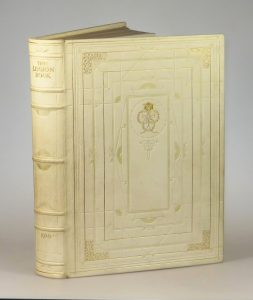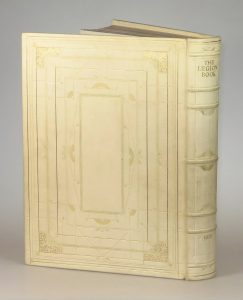 The Legion Book was commissioned by the Legion's patron, H.R.H. The Prince of Wales (later Edward VIII and, after abdication, the Duke of Windsor).  Sale proceeds were dedicated to the Legion.  The dozens of contributing artists and writers were among the most talented British subjects in their fields, including Winston Churchill, Rudyard Kipling, P.G. Wodehouse, Aldous Huxley, Vita Sackville-West, G.K. Chesterton, Hilaire Belloc, Augustus John, Eric Kennington, and John Nash. The book was edited by James Humphrey Cotton Minchin (1894-1966), a WWI veteran of the Cameronians and the Royal Flying Corps.  Trade editions ran to multiple printings.  There was also a 600 copy limited edition.  500 of these were signed by the editor and bound similarly to trade editions.  But "the first 100 were reserved for H.R.H. the Prince of Wales, sponsor of the volume, in his gift."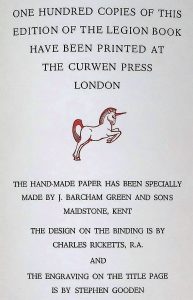 These hundred were simply magnificent – printed in red and black by The Curwen Press on larger, hand-made paper, profusely illustrated, extravagantly bound in elaborate blind and gilt-tooled white pigskin.  Massive volumes, they measure 13 x 10 x 2 inches and weigh 6.6 pounds. Each copy was hand-numbered.
As impressive as the aesthetics are, more impressive still are the signatures.  These 100 magnificently bound copies were signed by a simply remarkable list of 85 writers and illustrators, as well as four prime ministers (three British Prime Ministers – David Lloyd George, Stanley Baldwin, and Ramsay MacDonald – and French Prime Minister Georges Clemenceau), and H.R.H. The Prince of Wales.  The tally is five prime ministers if you count Churchill, who signed as a contributor, but became prime minister in 1940.
So many are the signatures that they span 8 pages.  As stated at the end of the contents: "There are five pages of contributors' signatures following the Dedication, one page opposite Collotype No. 3 and one page opposite Collotype No. 20."  The Prince of Wales signed on the blank verso of the Dedication.
The list of signatures includes the following: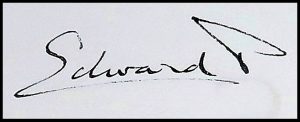 Winifred Austen
Prime Minister Stanley Baldwin
Edward Bawden
Max Beerbohn
Hilaire Belloc
Arnold Bennett
Reginald Berkeley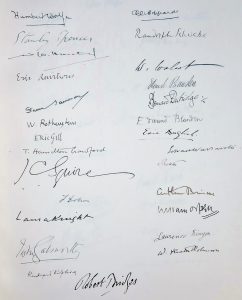 Laurence Binyon
Edmund Blunden
Muirhead Bone
Robert Bridges
Arthur Briscoe
Sir D. Y. Cameron
Bliss Carman
K. Chesterton
Winston S. Churchill
Sir George Clausen
Prime Minister Georges Clemenceau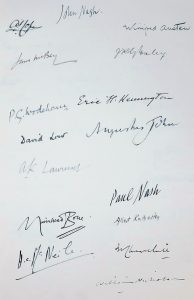 Sir Arthur Cope
E. Coppard
Edward Gordon Craig
Hamilton Crawford
Eric Fitch Daglish
H. Davies
Walter de la Mare
John Drinkwater
H.R.H. The Prince of Wales (later Edward VIII and, after abdication, the Duke of Windsor)
Jacob Epstein
J.R.G. Exley
John Galsworthy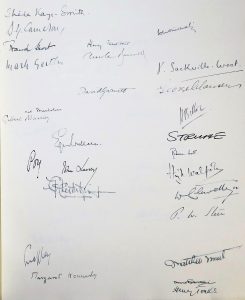 David Garnett
Mark Gertler
Eric Gill
Stephen Gooden
Lee Hankey
Aldous Huxley
Storm Jameson
Augustus John
Sheila Kaye-Smith
Margaret Kennedy
Eric Kennington
Rudyard Kipling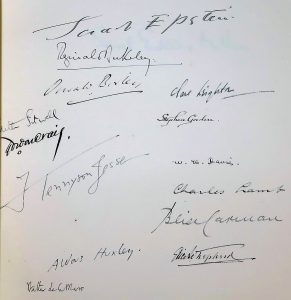 Dame Laura Knight
Charles Lamb
Sir John Lavery
K. Lawrence
Clare Leighton
Sir William Llewellyn
Prime Minister David Lloyd George
David Low
Prime Minister Ramsay MacDonald
James McBey
C. McNeile
Sarah Gertrude Millin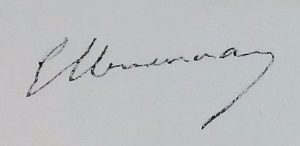 Gilbert Murray
John Nash
Paul Nash
Henry Newbolt
William Nicholson
Sir William Orpen
Sir Bernard Partridge
Poy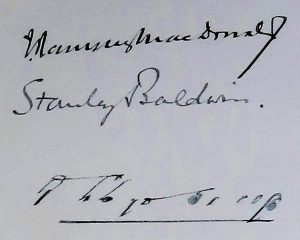 Charles Ricketts
Eric Rivilious
David Robertson
Heath Robinson
William Rothenstein
Albert Rutherston
Vita Sackville-West
Randolph Schwabe
Eric A. Shepherd
Sir Frank Short

Edith Sitwell
Snaffles
Sir Stanley Spencer
C. Squire
W. Steer
Strube
F. Tennyson Jesse
Henry Tonks
Edward Wadsworth
William Walcot
Edger Wallace
Hugh Walpole
Rebecca West
G. Wodehouse
Humbert Wolfe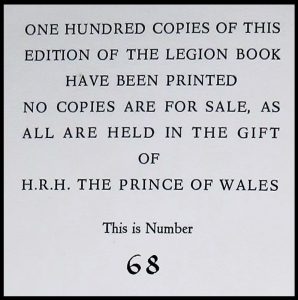 We will soon be pleased to offer an unusually fine example, copy "68", hand-numbered thus on the limitation page.  The binding and contents are nearly flawless.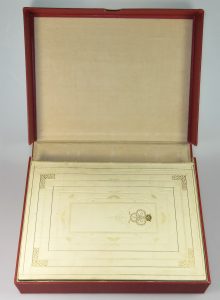 Superlative condition owes to the presence of the original felt-lined cloth clamshell case, with a discreet, inked "No.68" on the upper front cover.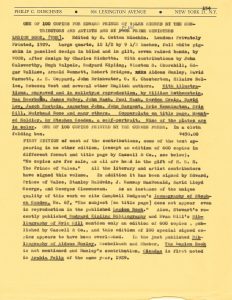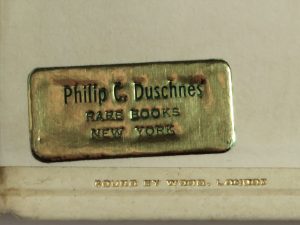 Laid in the case is an original description of this book by noted New York bookseller Philip C. Duschnes, who died in 1970.  His tiny gilt sticker is affixed to the lower rear pastedown.
This is another installment in our preview of hoarded treasures being reserved for our forthcoming "Extra Ink" catalogue.  Expect the catalogue in  final weeks of 2018.  During the coming months our blog posts will provide a sneak peek at some of the catalogue items!