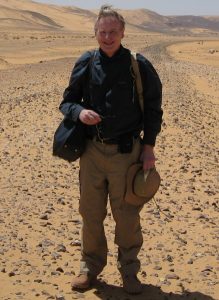 In 2017, we lost Jeremy Wilson, the world's leading authority on T. E. Lawrence. It was a blow to scholarship, to collectors, and to T. E. Lawrence himself, who may never have had anyone else so comprehendingly versed in, and dedicated to, his life and writing.
In his final years, I had the privilege of corresponding with Jeremy. It was a decidedly one-sided exchange in my favor. Of course we helped some Castle Hill Press inventory find the shelves of discerning readers and collectors. But the main benefit of our correspondence accrued to me, as Jeremy was unstintingly generous in sharing his inestimable knowledge and experience, which was always delivered with wit and decency.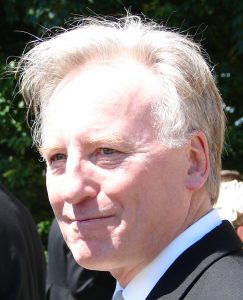 In the early 1970s, Wilson edited an anthology of T. E. Lawrence's favorite poems (Minorities). This catalyzed Wilson's appointment by A. W. Lawrence as the authorized biographer of his elder brother, T. E. Lawrence. Wilson devoted the remainder of his professional life and scholarship to Lawrence. In 1990, Wilson published Lawrence of Arabia: The Authorized Biography of T. E. Lawrence to wide acclaim. That same year, Wilson and his wife, Nicole, set up Castle Hill Press to edit and publish scholarly editions of Lawrence's works and correspondence. For the next quarter of a century, Castle Hill Press served as the premier editors and fine press publishers of material by and about T. E. Lawrence, combining meticulous scholarship and discriminating aesthetic sensibilities to produce a dazzling array of limited editions of Lawrence literature, biographies, and correspondence. Each edition has become instantly collectible upon publication. Many of these editions, or constituent parts thereof, had never before been published.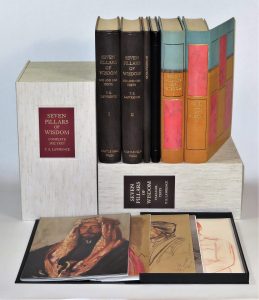 It is difficult to single out any one accomplishment in the accumulated trove of Jeremy and Nicole Wilson's Castle Hill press publications. Nonetheless, in my view perhaps their single most remarkable achievement was the 1997 publication of the fullest surviving 1922 'Oxford' text of Seven Pillars of Wisdom.
When Lawrence died in 1935 following a motorcycle crash, his masterwork was rushed into print in the only version readily available – the 1926 "Subscribers" abridgement.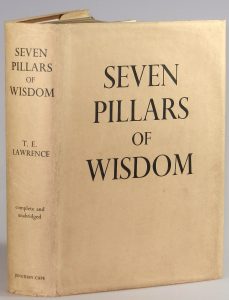 That 250,000-word text released to the world as "Complete and Unabridged" was neither. But it sold very well, so the publishers long resisted publishing the full, 334,500-word 1922 "Oxford Text", which "could only be a direct commercial threat to the highly profitable investment they had already made." Incredibly, this 1922 text had to wait three quarters of a century to see publication; the 1922 "Oxford Text" – a third longer – was not published until 1997 when Castle Hill Press finally brought it to the reading public.
Beyond the more subjective questions of literature, in terms of both autobiography and history, "the 1922 text is, without question, superior to that of 1926. In the process of 'literary' abridgement, Lawrence cut out numerous personal reflections, some of which were important." For example, the 1926 text excised Lawrence's "confession that the flogging at Deraa left him with a masochistic longing… and his recollection of this event a few weeks later when he was present at Allenby's official entry into Jerusalem. The historical record, likewise often fell victim to abridgement… because of the cuts, [the narrative] does not always account for Lawrence's time or seem to square with independent records. Worse still, the frustrations and abandoned plans of 1917-18 were largely suppressed in the 1926 text…"
Since it was first published in 1997, the remarkable Castle Hill Press edition of the 1922 Oxford text of Seven Pillars has seen a two-volume limited edition (with accompanying illustrations volume), a one-volume limited edition, a hardcover trade edition, and finally, paperback editions. However, the hallmark is and will remain the first twenty sets produced by Castle Hill Press. For these twenty sets, Castle Hill Press spared no effort or expense, either in meticulous erudition or superb craftsmanship.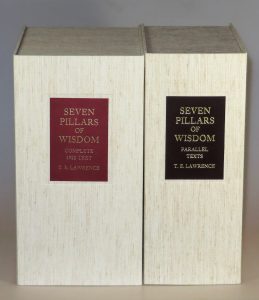 The first twenty sets comprise six volumes and a clamshell folio, all housed in two cloth Solander cases.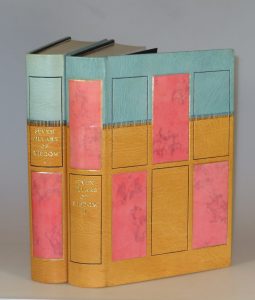 Two volumes containing the 1922 text are bound by The Fine Bindery in a specially commissioned design of full tan and blue goatskin with dark pink marbled calf onlay, all edges gilt, hand-sewn head and tail bands, leather joints, and suede doublures.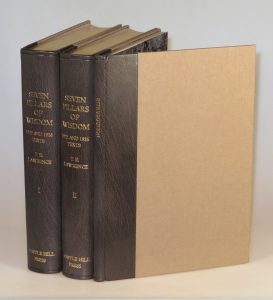 Two volumes containing parallel presentation of the 1922 and 1926 texts are bound in quarter brown goatskin over brown cloth with hand-marbled endpapers and gilt top edges. A single volume containing the eight chapters of the Introductory Book of Seven Pillars in parallel 1924/1936 text is likewise bound in quarter brown goatskin.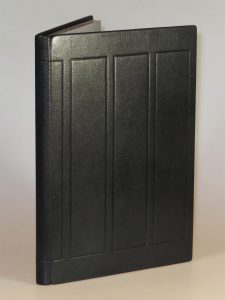 A companion volume of illustrations is bound in full black blind-ruled goatskin with all edges gilt and illustrated endpapers. An internal box contains an unbound proof set of the Seven Pillars portraits.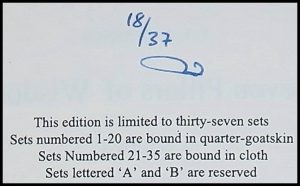 Each of the twenty sets was hand-numbered in both the main text and parallel text volumes and signed by Jeremy Wilson. The set is a simply magnificent shelf presence, a monument to both the author and publisher that made it *almost* worth the 75-year wait.
Despite the superlative bindings, Jeremy Wilson himself stated "the most important thing was the text." Preparation of the text was meticulous, taking advantage of Wilson's knowledge as the foremost scholarly authority on T. E. Lawrence:
"My aim in preparing the 1922 Text for publication was to issue it in its 'best' form. The initial typesetting was based on Lawrence's corrected Oxford Times proof. This was then checked against the Bodleian Library manuscript to correct the printer's many transcription errors and 'house style' punctuation changes. I also restored printer's omissions not corrected by Lawrence, two of which are of considerable interest. At the end of this process, the text published by Castle Hill Press was considerably more accurate than the text of the 1922 Oxford Times proofs.
However, I found that in addition to straight corrections, Lawrence had made some hundreds of amendments on his copy of the printed text. These were clearly intended as textual improvements, and I decided to retain them. That produced a version which incorporates his final revisions to the 1922 draft, and is superior both to the manuscript and to the surviving Oxford Times proofs. Finally, the book was lightly copy-edited to remove the grammatical and punctuation errors inevitable in a manuscript, and also to eliminate Lawrence's random variations in capitalisation and Arabic transliteration."
When preparing the limited editions of the Oxford Text, Castle Hill Press also undertook the painstaking, mammoth task of creating a parallel text editon – two large volumes containing complete texts of the 1922 and 1926 versions, typeset side-by-side in double columns.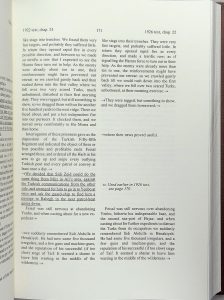 This double-column format aligns the beginning of each sentence that exists in both texts so that readers can see at a glance exactly what was omitted and what was revised, illuminating the significant differences in style and content between the two texts. The parallel text is not only a wonderful work of scholarship, but it also shows why publication of the 1922 text was so important to publish. Just 37 numbered sets of parallel text were produced, the first twenty of which were specially bound and included with the first twenty special sets.
Issued twenty years ago, the first twenty sets produced by Castle Hill Press count, in the opinion of this writer, bookseller, and book collector, among the most noteworthy pieces of twentieth century fine press production.
For the first time, we are able to offer one of these twenty sets, #18, which we acquired from the library of the original subscriber in pristine, as-new condition and which may be viewed HERE. Our full inventory of Castle Hill Press listings may be viewed HERE and our entire T. E. Lawrence inventory HERE.