We recently had the privilege to catalogue a compelling, inscribed set of Churchill's history of the Second World War. This set belonged to the pilot who flew Churchill to England from Madeira in a flying boat on 12 January 1950 for the run-up to the February 1950 General Election.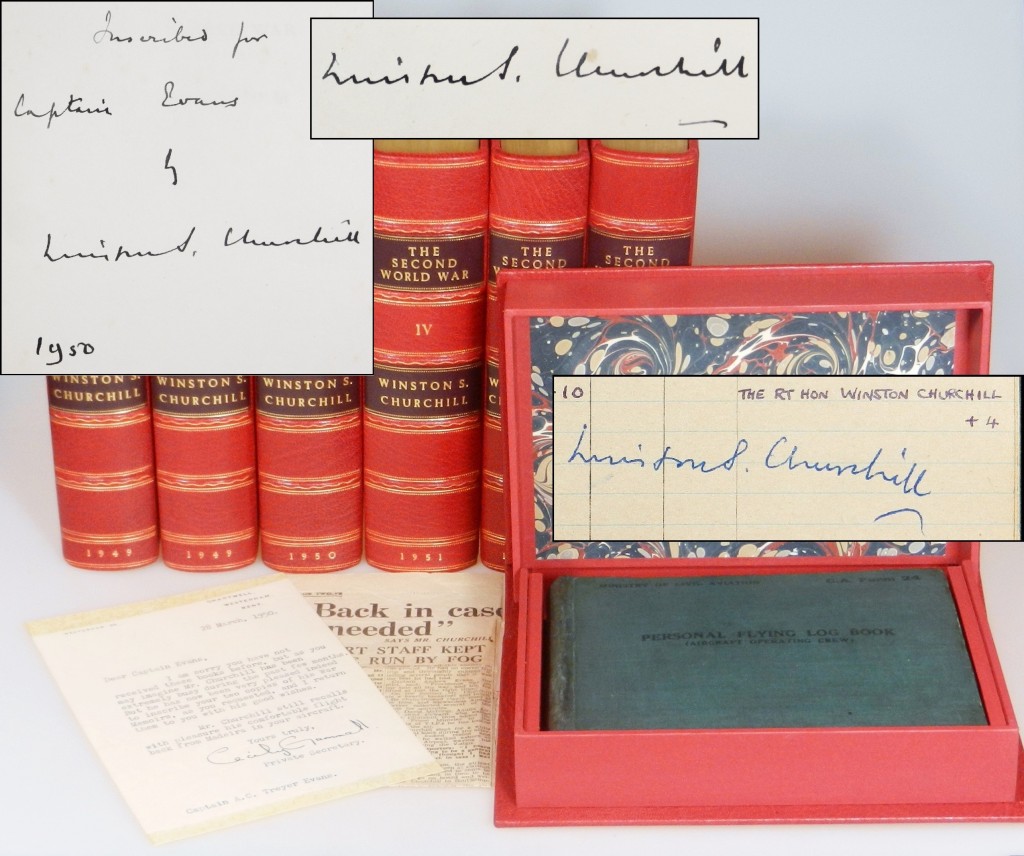 Captain Andrew Cannon Treyer Evans (1923-2000) was an RAF pilot during the Second World War.  Evans enlisted at age 18 in 1941, earned his wings on 25 March 1942, and was demobilised with the rank of Flight Lieutenant on 25 July 1946.  During the Second World War he trained in Airspeed Oxford bombers, flew anti U-Boat patrols and gave instruction in Catalina flying boats, and flew Liberators used in troop transport.
One of the planes that Evans flew – the B-24 Liberator – was designed and built by Consolidated Aircraft in San Diego, only a few short miles from where his inscribed books now sit in our library. Of course the connection is only tangential, but that does not keep it from kindling some imagination and reflection. About the constantly changing tides of human endeavor. About the things which endure, the many which do not, and the role of chance in separating the former from the latter.
More than 18,000 Liberators were built during the war. There are reportedly only two still flying today. Happily, this set of books has also endured, and is a truly unique collection of signatures that physically connect to one of the many pivotal moments in Churchill's long life.
Before this set passes from view into the hands of a collector, it seemed fitting to share. Hence this post.
INSCRIPTION, SIGNATURES & PRESENTATION LETTER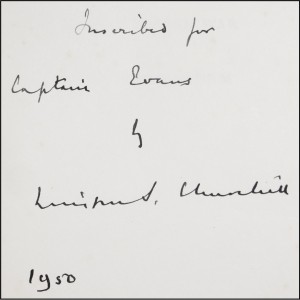 Volume I is inscribed in five lines in black ink on the front free endpaper: "Inscribed for | Captain Evans | by | Winston S. Churchill | 1950".
Volume II is signed by Churchill on the front free endpaper in black ink.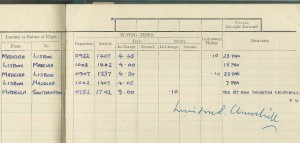 Captain Evans' original flight log book is signed by Churchill in blue ink on the page logging his 12 January 1950 flight with Evans.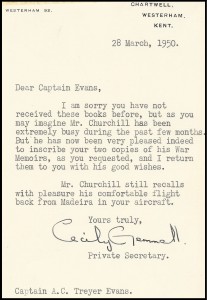 A typed presentation letter on Chartwell stationery conveying the two signed books to Captain Evans is dated "28 March, 1950" and signed by Churchill's private secretary, Cecily Gemmell. Also included with the set is an original 13 January 1950 newspaper clipping with quotes from both Captain Evans and Churchill about the flight.
THE SET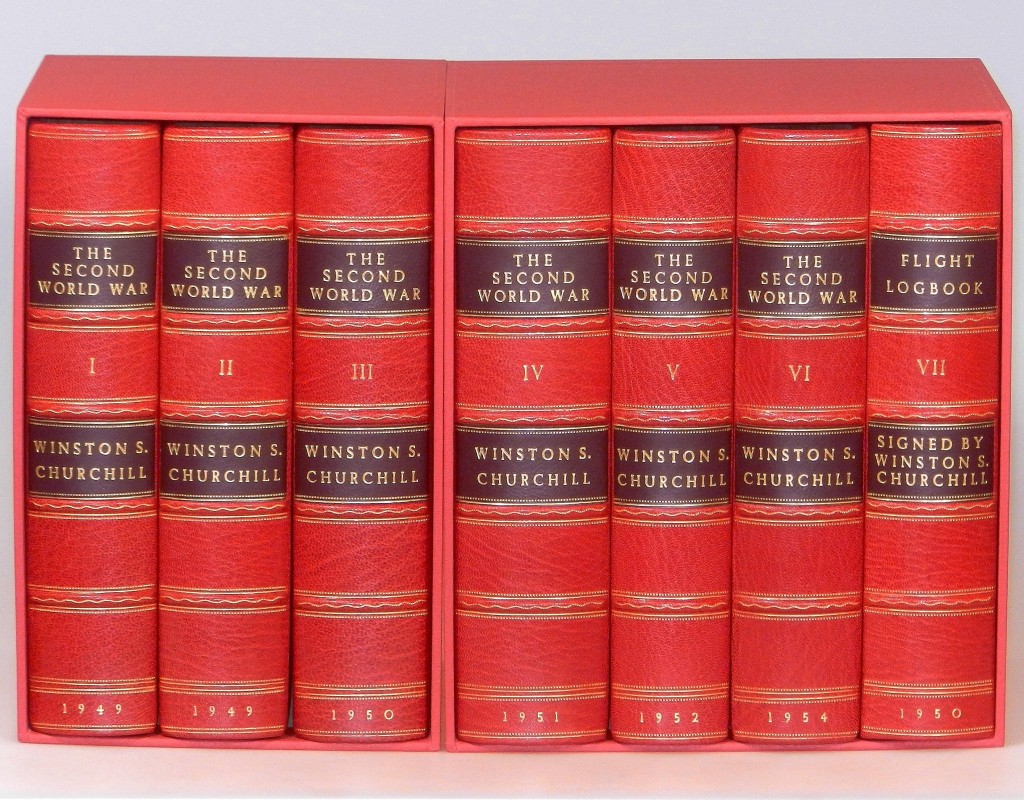 The exceptional fine binding is newly commissioned by us from a highly skilled binder. The entire set is finely bound in full red morocco with gilt decoration and print, raised spine bands, contrasting morocco title and author panels, top edges gilt, and marbled endpapers. All seven volumes are housed in two red cloth slipcases.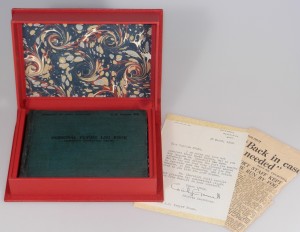 Volume I is the edition available at the time of presentation – that being the first printing of the second (revised with Churchill's many corrections) edition, published November 1949. The signed Volume II, as well as the additional four volumes comprising the set, are British first edition, first printing.
A seventh "volume" is a clamshell case housing the signed flight log book, presentation letter, and newspaper clipping.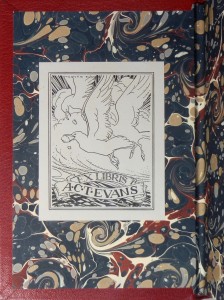 We had Captain Evans' book plates carefully recovered from the original pastedowns of the two signed volumes and affixed to the new pastedowns. We also had protective tissue covers tipped in preceding the inscribed Volume I page and signed Volume II page.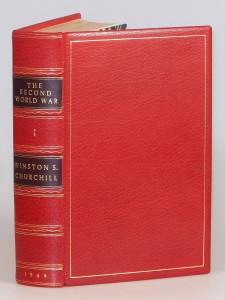 The overall aesthetic is lovely but, more important, should ensure that the books comfortably outlast many collectors yet to come.
THE ASSOCIATION
After the war Evans flew commercially for the British Overseas Airways Corporation, The British European Airways Corporation, and Aquila Airways Limited.
Captain Evans was piloting a flying boat for Aquila Airways on 12 January 1950 when he flew Churchill back to England from the Portuguese island of Madeira.
"Churchill had intended to stay in Madeira for several weeks, hoping to make considerable progress on the fourth volume of his war memoirs.  But while he was away, Attlee announced that a General Election would be held on February 23."  Hence Churchill cut short his trip, leaving his wife in Madeira while he returned to London.  (Gilbert, Volume VIII, p.500)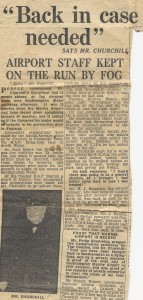 The flight proved nearly as dramatic and uncertain as the election itself.  Poor visibility due to fog threatened to divert the landing site and caused a scramble for the reception party on the ground.
Walking ashore at the Southampton Marine Airport, Churchill told reporters: "I heard there was going to be a general election, so I thought I had better come back in case I was needed!"
The next morning, Churchill telegraphed his wife "We were lucky yesterday with fog which obligingly lifted for half an hour."  (Gilbert, Volume VIII, p.500)  The press quoted Captain Evans: "Providence was on our side all the way, and the fog lifted at just the right time."  Providence was not so partisan with the election, which left the Labour-led Government with a thin, five-seat majority.  Not until the next General Election, in October 1951, would Churchill's Conservatives return to majority and Churchill himself to 10 Downing Street for his second and final premiership.
Despite the uncertainties of both the flight and the election that awaited, Churchill reportedly – and characteristically – enjoyed the journey.  The press reported that "On the journey Mr. Churchill ate a hearty breakfast and lunch" and "chain-smoked cigars most of the time."
Churchill signed Captain Evans' personal flight log book at the time of the flight.  Two and a half months later, on 28 March 1950, Churchill's Private Secretary, Cecily "Chips" Gemmell (Private Secretary from 1947-1951) sent a presentation letter and signed copies of the first two volumes of Churchill's The Second World War (the third volume would not be published until July 1950) to Captain Evans.  Gemmell's typed, signed letter on Chartwell stationery reads:
28 March 1950.
Dear Captain Evans,
I am sorry you have not received these books before, but as you may imagine Mr Churchill has been extremely busy during the past few months.  But he has now been very pleased indeed to inscribe your two copies of his War Memoirs, as you requested, and I return them to you with his good wishes.
Mr. Churchill still recalls with pleasure his comfortable flight back from Madeira in your aircraft.
Yours Truly,
Cecily Gemmell
Private Secretary.
Captain A.C. Treyer Evans.
THE EDITION
The Second World War is Churchill's history of the epic 20th Century struggle that was so indelibly stamped by his leadership. The six volumes of the British first edition were originally published between October 1948 and April 1954.
Seldom, if ever, has history endowed a statesman with both singular ability to make history and singular ability to write it. As with so much of what Churchill wrote, The Second World War is not "history" in the strictly academic, objectivist sense, but rather Churchill's perspective on history. In his March 1948 introduction to the first volume, Churchill himself made the disclaimer, "I do not describe it as history… it is a contribution to history…" Nonetheless the compelling fact remains, as stated by Churchill himself, "I am perhaps the only man who has passed through both the two supreme cataclysms of recorded history in high Cabinet office… I was for more than five years in this second struggle with Germany the Head of His Majesty's government. I write, therefore, from a different standpoint and with more authority than was possible in my earlier books." Certainly The Second World War may be regarded as an intensely personal and inherently biased history. Nonetheless, Churchill's work remains seminal, iconic, and a vital part of the historical record. Richard Langworth calls the six-volume epic "indispensable reading for anyone who seeks a true understanding of the war that made us what we are today."
Publication of The Second World War became known for a rather dizzying array of corrections and what Churchill called 'Overtake Corrections' (still arriving after the electroplates of the first edition had been made and thereafter accumulating in anticipation of a later edition).  This second edition of Volume I of the British edition – denoted on the copyright page as "New Edition, revised and reset" – was published in November 1949, only five months after the second volume was published and more than eight months before the third volume was published.  Hence, the first printing of the revised edition of Volume I was the edition readily available when Captain Evans received his inscribed copy.