Have you ever reached into a coat pocket to find an old theatre or concert ticket, only to wish you could use it again?
At 3:00 pm on Wednesday, June 15, 1904, Winston Churchill delivered a lengthy speech in the hall of the Midland Hotel to the local Free Trade League branch of his future North West Manchester constituency. The rather remarkable little item we write about today is an original admission ticket to the meeting.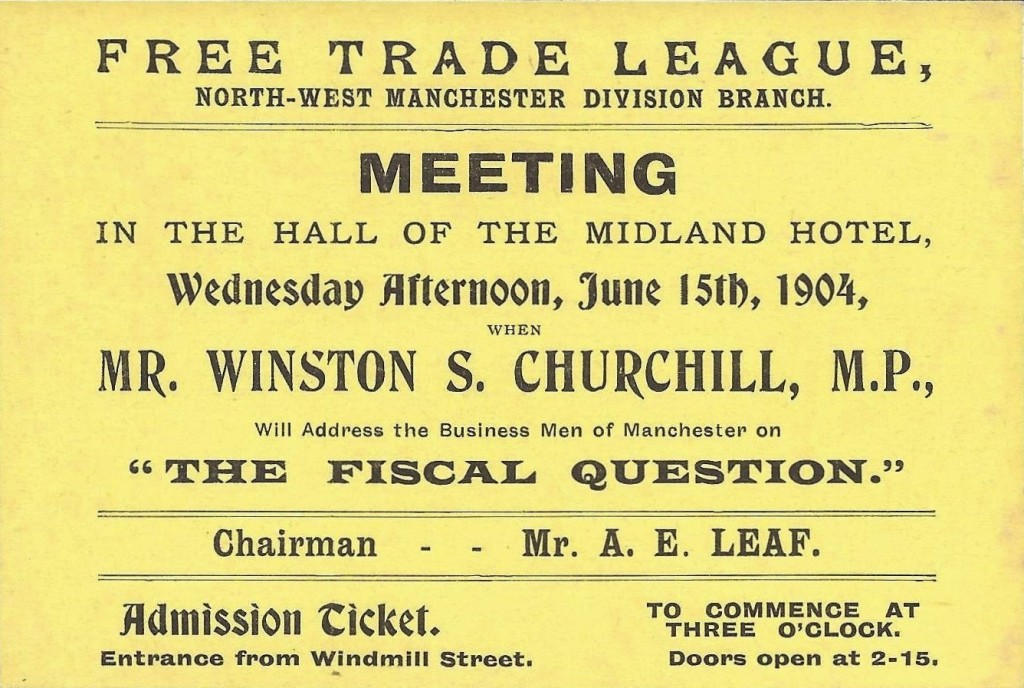 Just 29 years old, Churchill was a promising but already controversial young leader who had yet to experience either the trying failures or supreme triumphs that cemented his place in history. And he had just made one of the watershed decisions that would define the early decades of his political career and set the tone for the obdurate anti-orthodoxy in the face of personal conviction that would characterize the entirety of the six decades in Parliament that still lay before him.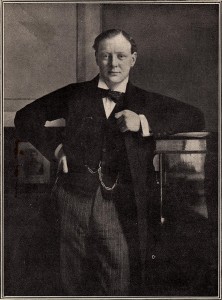 Only two weeks before, on May 31, 1904, Churchill had left his father's Conservative Party and crossed the aisle to become a Liberal. Churchill was beginning a dynamic chapter in his political career that saw him champion progressive causes and be branded a traitor to his class. Free trade was a policy issue on which he had opposed Conservative Party leadership and which had helped precipitate his defection from the party.
It would be North West Manchester that would soon provide a constituency to Churchill, even if his relationship with the constituency proved brief and fraught. In his 64-year parliamentary career, Churchill represented five different constituencies. His second – North West Manchester – was also his shortest.
Churchill's speech of June 15, 1904 was delivered to "a meeting of business men belonging either to the Manchester Chamber of Commerce or to the Free Trade League." His speech would be published in 1906 in the now exceptionally rare volume of his speeches titled For Free Trade (pp.82-106). Of note, in the summer of 1903, Churchill's close friend and political ally Lord Hugh Cecil (who would serve as best man at Churchill's wedding in 1908), helped found the Free Trade Union, which was "primarily a central propaganda body" that "maintained relations with spontaneously formed local Free Trade organisations. The most important of these was the Free Trade League of Manchester…" (P.F. Clarke, Lancashire and the New Liberalism, p.276)
Churchill's first constituency (from 1900-1906) as a Member of Parliament – Oldham – favored the Conservative policy of protectionism. Churchill's advocacy of free trade and defection to the Liberal Party led the Oldham Conservative Association to pass a resolution that he "had forfeited their confidence in him." Churchill was invited to stand for North West Manchester, a traditionally Conservative seat that he won as a Liberal in the 1906 General Election.
North West Manchester was "one of nine of that city's constituencies, with a tiny electorate of just 10,000, of whom almost a third were Jewish. Churchill polled 5,639 votes with a majority of 1,241… By now a junior minister, he was almost entirely concerned with national and international affairs." (Douglas Hall, Finest Hour #103, pp.49-50) In 1908, when Churchill was promoted to the Cabinet as President of the Board of Trade, custom required that he submit to re-election. His by-election became a test of confidence in the Liberal government. Forced to defend the Government's policy, targeted by vengeful Conservatives, and hounded on the hustings by Suffragettes, Churchill was narrowly defeated by the Conservative candidate.
The survival of this original ticket to Churchill's June 15, 1904 speech on the issue of the day to his future Manchester constituency seems a little remarkable. It is an evocative and precious piece of ephemera.
The ticket measures 4.5 x 3 inches and is printed in black ink on one side of bright yellow card stock. "MR. WINSTON S. CHURCHILL, M.P." is prominently printed at the center the card and the subject of his address titled "THE FISCAL QUESTION." Condition of the ticket is nearly perfect, with virtually no soiling or wear and retaining bright, unfaded color.
Alas, we cannot offer you the chance to use it, but this ticket is nonetheless available for purchase HERE.